#3 Hitter: Kenny Mickens, New Market
November 19, 2009 - John Leonard
Our #3 hitter, Kenny Mickens, has had a bit of a nomadic college baseball experience to this point.
He began his college career at San Diego State, but after a broken hand and medical redshirt, he lost his scholarship. That led to a one-year stint at San Diego Mesa, and then a year at Los Angeles City College. Now as a junior, Mickens needed some help finding a summer team, and then a four-year college.
As luck would have it, Kenny's hitting coach, Mike Easler, had a contact on the New Market Rebels' staff, and the Rebels accepted Kenny with open arms.
Boy, are they glad they did.
All Mickens did was light up Valley League pitchers all season long. He ended with a line that looks like this: 365/484/524 in 35 games and 126 at-bats, with 15 doubles, 1 triple, 1 home run, 22 RBI, 25 runs, and a 19/32 BB/K ratio. He finished tied for second in the league in doubles, 2nd in on-base percentage, 4th in OPS, and first in batting average, and the 3rd best hitter according to ATVL.
Mickens parlayed this amazing summer into a spot with UNC Pembroke, where he enters the program as a junior. Here's hoping that Kenny can have a breakout college season- just in time for the draft!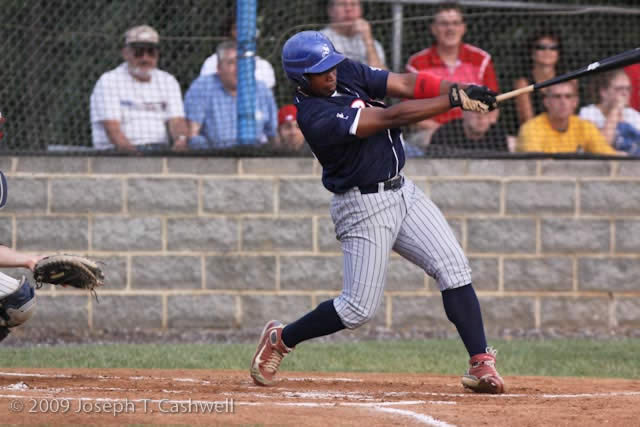 Picture courtesy of Haymarket Joe Photography!