About Austin Gisriel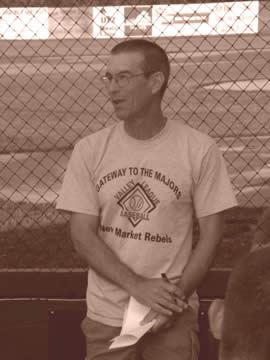 Austin Gisriel grew up in Baltimore County playing baseball and rooting for the Orioles. Early on, his chosen career path was to take over third base for the Birds when Brooks Robinson retired, and it was only a lack of talent that prevented him from accomplishing this goal.
A 1975 graduate of Loch Raven High School and Western Maryland College, where he obtained a B. A. in psychology, Gisriel obtained his Masters of Theological Studies from Wesley Seminary in Washington, D. C.
"I found my place in the universe, but not in the world," comments Gisriel, wryly.
In 1979 Austin married the former Martha Mary Pratt.
Gisriel taught high school English for nearly 20 years in Washington County, Maryland and was a free-lance writer penning articles on baseball for The Sun (Baltimore), Baseball Digest, and other publications. Upon leaving teaching in 2004, Gisriel owned and operated a small landscape business.
The Gisriel's first daughter, Rebecca was born in 1987, followed by second daughter Sarah in 1992. Either one of whom would have been named "Brooks" had she been a boy. Nevertheless, with Little League, soccer, Girl Scouts, and other activities, Gisriel suspended his free-lance work.
"It was time to run the Dad Taxi," laughs Gisriel, "and if someone had paid me by the mile, I could retire right now."
Eventually, however, with Becky off to college and Sarah driving on her own, he returned to free-lance writing, authoring a piece entitled "Fantasy Baseball" about the Valley Baseball League for Virginia Living magazine. Austin is now a regular contributor to Hagerstown Magazine and he continues to free-lance. Safe at Home: A Season in the Valley is Gisriel's first book.
Martha and Austin celebrated their 30th wedding anniversary on August 4th of 2009, appropriately enough at a New Market Rebels playoff game. Currently residents of Williamsport, Maryland, they hope to eventually retire in New Market, Virginia.