The New Market Bicentennial Gazette reported in 1996 that baseball has been very much a part of the New Market's heritage since 1866. It was then the local team played The Staunton Excelsior Club and The Harrisonburg Lone Star Club. The New Market team was The Lee Club. There were numerous accounts in the Old Commonwealth of spirited games between The Lone Star Club and The Lee Club.
In 1891 we find that Luray and Harrisonburg played games at New Market. By 1904, games were being played with local teams from Mt. Jackson, Edinburg, Woodstock, and the Broadway "Bark Peelers".
The Valley League started in 1923 which included New Market. New Market has fielded a team every year except when the league suspended operations for several years during World War II.
Located in the heart of the beautiful Shenandoah Valley, the New Market team was chartered as a not-for-profit Community owned team in 1947. Home games are played at Rebel Park just off Interstate 81, exit 264, at Dixie Lane and John Sevier Road and start at 7:30pm.
The players of today are all collegiate, and are housed by host families in the community. The Rebels won League Championships in 1989, 1994, and 2002.
Community support is organized around The Shenandoah Valley Grandstand Managers Club, founded in 1993. The Club, consists of about 125 members with the goal to increase fan support and raise funds to support the team and promote baseball in the Community.
The Rebels have been featured in the "Atlanta Constitution", in an article on June 25, 1993 which focused on how "Summer League Offers a Lesson in Small Town Living", by Bob Dart. The Richmond Times-Dispatch published an article by John O'Conner on Vinney Maddaloni of Queens, New York and his life with his "host family" for a Summer Season.
The Rebels were also the subject of an ABC-TV Sunday News Article by ABC Sportscaster, Dick Schaap in June 1993.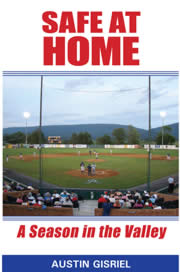 The Rebels 2009 season was featured in a book Safe at Home: A Season in the Valley by Austin Gisriel. Information about the book including purchase can be found in the Safe At Home section of this web site.
Additional information about the Valley Baseball League and ball parks of each team can be found on page 19 of the Fodor's, Ballpark Vacations by Bruce Adams and Margaret Engel.