The Wildest Wild Pitch of the Year
From
Chapter 20 "Redemption"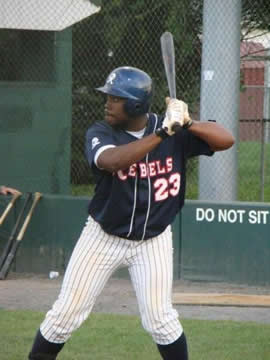 Sanchez Gartman at the Plate
This is agony. Twelve runners left stranded through 8 innings. One thrown out at the plate on a controversial call. . . . Everyone sporting a Rebel hat or shirt is of one thought: Can fate be this cruel?
Charlie and I tell our audience that we must will in a run from the broadcast booth. Turks manager Bob Wease has brought in Drew Granier, his best pitcher, to close out the 9th. It was Granier who held the Rebels to only one run in 8 innings back on July 10th, but it was Matt Townsend who accounted for the Rebels' run in that game with a homer, and Matt will bat third in the inning.
Sanchez Gartman leads off the bottom of the 9th, however, and he walks. After stealing second, he takes third on a ground ball to his right at short. It is a violation of one of baseball's cardinal rules, but the ball slows down considerably when it hits the 1,000 pounds of Turface that has been spread about in the infield dirt, and Gartman is able to advance. Matt Townsend now strides to the plate with the tying run on third and only one out.
Everyone in both sets of bleachers, in both dugouts, and on the broadcast platform is anxious. Rebel fans know that the season could be hanging in the balance. What happens next seems to unfold in slow motion. Granier throws a pitch low and away that skips past Parker Brunelle. Remembering how Rufus was thrown out in the 7th, however, I look to see where the ball is bouncing, rather than down at Gartman. It is not careening back to Brunelle off the padding. It is bounding off to his right, and only now do I look for Sanchez . . . who is frozen at third. He hasn't moved on the wildest wild pitch of the year. Suddenly thawed out, he darts for home, and I can't believe that Fate is so sadistic that Gartman will be cut down in the next second trying to score. Brunelle, however, has turned to the inside, to his left, rather than outside to his right. And so on one step in the wrong direction, the game turns. Brunelle grabs the ball and heaves it desperately to Granier covering, but the throw is high and the ball ticks off the end of Granier's glove. Sanchez Gartman is safe. The Rebel bleachers roar and George Carroll launches himself off the front row like a rocket.
Later, Gartman will tell me that he didn't see the ball on the ground, and he thought that Brunelle was trying to deke him. Of course, his dugout wasn't trying to deke him when they immediately began screaming "GO!" but in this case, Sanchez is, indeed, safe and not sorry.
Still, maybe Fate is merely teasing us. Townsend strikes out and Helgeson grounds to third for the final out in the inning. The game is only tied, and in extra innings, anything can happen.