Raynor Taken in Rule 5 Draft
December 17, 2009 - John Leonard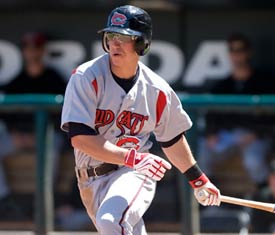 The Rule 5 draft: every team looking for the next Joakim Soria or Johan Santana...
Well, usually, the Rule 5 draft means a chance for a player that might be stuck behind other players in a talented system, or even someone that is viewed more kindly by a different front office. This is what ATVL wrote about the draft last year: Players taken in the major league phase cost $50,000. If the player does not stay on the major league roster for the entire upcoming season, the player is offered back to the original owning team for half price.
Last year, Rocky Cherry (Harrisonburg 01) was selected. This year, former New Market Rebel John Raynor (04) was plucked by the Pittsburgh Pirates from the Florida Marlins. Baseball America listed all the players drafted- and included this tidbit about Raynor: At least a 70 runner, Raynor fits as an extra outfielder if his defense in center is serviceable. (That number "70" comes from the 20-80 scouting scale. A 70 is another way of saying that John is really, really fast.)
So Raynor will need to stay in the major leagues (barring injury, of course) with the Pirates all season, or be offered back to the Marlins.