Cooper to Play in NFL?
January 14, 2010 - John Leonard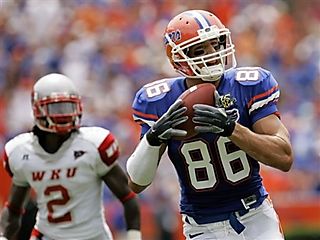 Those who watched Riley Cooper and the Florida Gators tear up the previously undefeated Cincinnati Bearcats on New Years Day might have had a question flit across their consciousness- will Riley Ccooper be able to play in the NFL?
Well, it turns out that Riley may be asking the same question.
On January 8th, Evan Grant of Baseball America posted a feature on Riley and that very topic. Here's what he wrote:
The Rangers drafted two-sport star Riley Cooper based on his speed and his ability to play the outfield.

But he's already shown a pretty sharp curve.

The Rangers expect Cooper, Tim Tebow's roommate and favorite receiver at the University of Florida, to be in camp before spring training opens, even though Cooper suggested he'd like to give pro football a try.

In the days before the Sugar Bowl, Cooper said he planned to go to the NFL combine and to the Senior Bowl. Then he went out and caught eight passes for a career-high 181 yards (including an 80-yard touchdown) as Florida swamped Cincinnati in the game.

"I want to go to the NFL right now. That's what I'm training for," Cooper told the Palm Beach (Fla.) Post two days before his huge game. "I'm going to show up to the NFL combine, hopefully run a good 40-yard dash and run some good routes and show them I have good hands."

Cooper was projected as a third- to fifth-round selection before the Sugar Bowl, but his performance combined with a good combine might raise that stock a bit. The biggest issue with him as a football player has been foot speed. Cooper said scouts have been talking about a 4.52-second time in the 40-yard dash.

The Rangers drafted Cooper in the 26th round in June, then spent the summer convincing him to accept a $250,000 bonus to join the organization after he played his senior football season at Florida. Cooper agreed right before the signing deadline. The Rangers have kept in contact with his agents since, agreeing to not pester Cooper while he prepared for big football games.

So the pronouncement caught the Rangers off guard.

"We've been in contact with them throughout the process," general manager Jon Daniels said. "As we discussed with them, we intentionally gave Riley some space and time to focus on the SEC championship and Sugar Bowl. Per our conversation with them (before the Sugar Bowl), I expect we'll see Riley in Arizona, and we'll be in touch with him before then. He had a hell of a year and deserves the attention he's getting. But this was all contemplated and discussed when he signed."

Daniels said if Cooper does not report to camp, he'd forfeit the $250,000 bonus the two sides agreed to. Cooper hit only .247 for the Gators last year and spent some time on the bench. He admitted getting frustrated with baseball in the days leading up to the Sugar Bowl.

"I kind of struggle with failure in baseball," he said. "That's my weakness, striking out and getting pissed."

That probably describes how the Rangers will feel if Cooper backs out of the deal the sides agreed to.
As far as I know, no former Valley Leaguer has ever played in the NFL, so Riley (New Market 08, Haymarket 09) would be a first. It's one of the issues that comes along with being a top-notch athlete. Most of us would be thrilled to have the opportunity to play one pro sport, but to have a difficult decisions to make between two... if I were a betting man, I would put money on Riley trying the NFL route.