Butler in Texas Chat
February 10, 2010 - John Leonard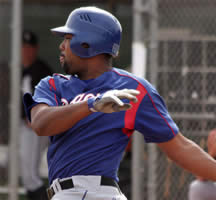 No former Valley Leaguers made Baseball America's list from the Texas Rangers' organization, but one former New Market Rebel was briefly mentioned in Aaron Fitt's chat (subscription only).
Joey Butler (New Market 06), fresh off an excellent year in the California League, showed up in this question:
Jay (Ft Worth): What is the future for Mike Bianucci? He crushed the ball last year! Thanks!

Aaron Fitt: I could see Bianucci as a righthanded power bat off the bench, a fourth outfielder. He's got good power and athleticism, but he swings and misses a lot and is not a very good defender. The Rangers generally like another corner outfielder, Joey Butler, better. Butler just has a little better feel for all phases of the game, though he doesn't have Bianucci's power.
Joey hit 280/343/416 in 134 games and 574 plate appearances. He will most likely move up to Double-A in 2010- ATVL will keep you posted!