The Legend of the Valley Retires
June 26, 2010 - John Leonard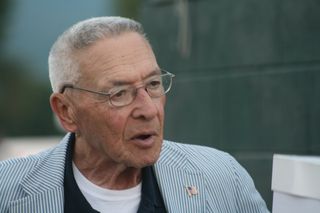 Last night, as the tradition dictates, the New Market Rebel organization celebrated Mo Weber's birthday. This night held a twist, though, as the organization also announced Mo's retirement from coaching.
The love that the team and town have for Mo was apparent as fans stood to honor the long-time coach, and both teams gathered at home plate in the 4th inning to honor him.
Here is Austin Gisriel's press release about the occasion:
The "Legend of the Valley," long-time New Market Rebels hitting coach Mo Weber has retired. Weber, who turned 87 yesterday, stated that the "time was simply right."
"What an honor it has been for the New Market Rebels to have had Mo Weber in the dugout for 17 seasons," said Rebels President and General Manager Bruce Alger. "His baseball knowledge and his commitment to the young men he has taught have been unsurpassed." The Rebels have retired Weber's number "1."
Weber started his coaching career at his alma mater, Winona State Teachers College (now Winona University) in 1946 and has donned a uniform every summer since. The former head coach at William and Mary, Weber's most recent college experience was as a volunteer at Eastern Mennonite University during the 2008 season.
Current Rebel Head Coach Corey Paluga stated "Mo is lively in the dugout, he loves the game, and he instills his enthusiasm in the players. He makes quite an impression on people."
"I've only been here for three weeks," said first year assistant coach Phil Betterly "and I feel as if I've known the man for 10 years."
"It's been a great ride and I'm so grateful to the New Market Rebels for the opportunity that I've had here," said Weber. "He's really an institution who's loved by all," said Dave Biery, President of the Valley Baseball League. "Mo's truly a remarkable guy; a great baseball guy and he'll be missed."
Kenny Mickens, an outfielder from UNC-Pembroke in his second season with the Rebels echoed Biery's sentiments. "I wish he'd stick around a little longer, but we all understand his decision. Mo will always be a big part of our team."
In a fitting finale, Mickens scored the winning run in the bottom of the 9th against the Haymarket Senators in Wednesday night's game, a 4-3 Rebels' victory and Weber's last game in uniform.
"It was a joyous final day," said Weber.
The Valley Baseball League's Coach of the Year award is named in Weber's honor.
Happy birthday, Mo, and thanks for all the years in the Valley. We'll miss you standing down at first base!