Why Rebel Baseball in New Market, Virginia?
February 20, 2009 - Austin Gisriel
Many readers might ask, why travel 90 miles one way to pay $5.00 to see a bunch of college kids play for the New Market Rebels, a member of the summer wooden-bat league, Valley Baseball League. The answer is because it is a far more enjoyable experience than traveling 90 miles one way to Baltimore to pay $50.00 to see major leaguers play. Don't get me wrong--the Orioles will always be my favorite major league team and I will always root hard for them, but the game itself is much more enjoyable in New Market.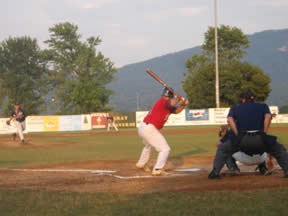 Rebel Park
The Valley League is comprised of kids who will play no further than college, professional prospects, and potential major league stars. Indeed, the Orioles' Chris Ray and Luke Scott played in the Valley among many other major leaguers. The dreams of these young men are palpable and as refreshing as the warm breezes that drift over the ballparks during the summer evenings on which they play.
No ballpark frames the game and the dreams better than Rebel Park in New Market. The outfield fence would remind any old-timer of the 1930s as advertising covers virtually every inch of the plywood fence. It also has its version of the big green monster, that is to say the third base bleachers look out about Massanutten Mountain, rising straight up off the Shenandoah Valley floor about 2 miles distant. To see the full moon rise above Massanutten is a sight not to be forgotten.
More memorable than the moon are the fans who frequent Rebel Park. If you are a stranger, you will not feel as though you have wondered into someone else's park. Instead, you'll feel as if you are being welcomed into someone else's home. Folks come there to watch the game in the company of their friends and neighbors and this, perhaps more than any other quality, makes baseball in New Market, Virginia a field of dreams. Hopefully, this brief description answers why I feel the need to write a book about Rebel baseball!
Opening Day for the Rebels this year is June 5, but you don't have to wait to see a game at Rebel park! On Sunday, March 1, the University of Pittsburgh-Bradford will play a doubleheader against Lincoln College from Pennsylvania. Admission is free and the concession stand will be open.