Rainy Day Fun at Rebel Park (but not for JMU!)
March 15, 2009 - Austin Gisriel
Rain reduced yesterday's scheduled doubleheader to one soggy--and lopsided--contest at Rebel Park as Bryant University from Rhode Island defeated James Madison University 22-8. The score might have been worse, but Bryant manager Jamie Pinzino bunted in the first inning with two on and no out. Somewhere in this fabled land Earl Weaver is crying . . . or cussing . . . or both.
Katie Getz had the park looking festive with purple and gold balloons tied to the bleachers, and everyone enjoyed the pregame ceremonies in which JMU head coach Spanky McFarland received the key to New Market. McFarland, in turn, presented Mayor Larry Smith with a baseball autographed by the entire JMU squad. Mayor Smith then threw out the first ball. It wasn't close to being a strike; on the other hand, he was one of the few hometown pitchers not to give up a run.
Lynne Alger and her crew had the concession stand open, and they were in midseason form, as my cheeseburgers with those famous grilled onions tasted like summer to me.
Charlie and Melissa Dodge were there, of course, and Melissa shared her favorite children's book How George Radbourn Saved the Game of Baseball. I had plenty of time to read it during the frequent pitching changes. We enjoyed a wonderful conversation on baseball, hockey, and the good old days before aluminum bats. Several other Rebel faithful were there, including Jim Weissenborn, Fred Miller, Larry and Sharon Smith, Jerry Carter who manned the PA booth, and, of course, all 4 Algers. It was great seeing each of them. I also had the chance to meet Buddy and Betty Weiner, the parents of current JMU pitcher and future Rebel James Weiner.
In spite of the weather and the score, it was a fun day at Rebel Park. I've never had otherwise.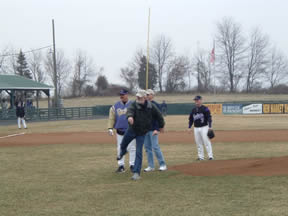 Just a bit low and away.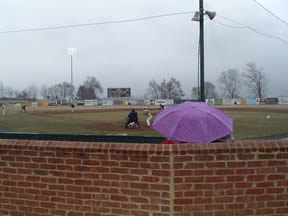 A visual summary of yesterday's weather!
A visual summary of yesterday's game! JMU
catcher Chris Johnson, who hit a homer of his
own, had a great deal of company at home plate.