Grandstand Manager's Banquet a Grand Success
May 11, 2009 - Austin Gisriel
The Shenandoah Valley Grandstand Managers Club banquet held at the Johnny Appleseed Restaurant in New Market Friday night was a rousing success. Good food and good fellowship were accompanied by an excellent succession of speakers.
Bruce Alger, gracious and smooth as usual in his role as Master of Ceremonies presented a 20 year service award to Dave and Arlis Beaver for the time, effort, and all-around handyman expertise given over the years. The recognition came with "love, admiration, and respect."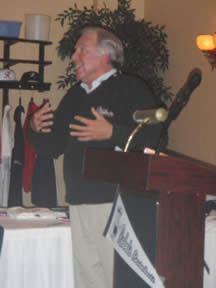 CRSCBL Commissioner Bob
Douglass waxes enthusiastic about
the Mid-Atlantic Classic All-Star Game
- Photo courtesy of Sarah Gisriel
Bob Douglass, Commissioner of the Cal Ripken Sr. Collegiate Baseball League, spoke about the Mid-Atlantic Classic All-Star game between his league and the Valley League, which will be held in Waldorf, Maryland on July 15. Bob traveled all the way from Baltimore to be with Rebel fans, providing them with interesting background about the game. Admission to what will no doubt prove to be exciting collegiate action is free, but donations are encouraged. If you can't make it to the game, MASN will broadcast the contest in HD.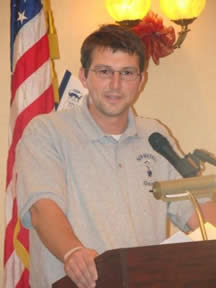 Lucas Jones previews the 2009
Rebels squad - Photo courtesy of
Melissa Dodge
Lucas Jones, the Rebels new manager, had an excellent message concerning what he looked for when recruiting players and how he intended to manage them. Jones told the audience that he recruited players with good skills, a knowledge of the game, and "the most important thing," the proper attitude towards preparing for and playing in the game. He then related how he had planned for each and every day of the 61 day regular season, only to tear up those plans when he learned of the tragic death of family friend, Jeff Taylor, Sr., who was struck by a line drive while throwing his son batting practice. Jones stated that this event illustrated the importance of taking nothing for granted and that he and the Rebels would "play in the moment, pitch to pitch. We will live the present moment . . . and enjoy the time we have." A wonderful philosophy whether you're between the lines or in the stands.
This year's banquet saw the highest attendance yet. All money raised by the Grandstand Managers goes to the support of baseball in the New Market area.
Thanks to the Shenandoah Valley Grandstand Managers Club for a wonderful time!