Stirrup Stylin'
June 3. 2009 - Austin Gisriel
The most important development from the New Market Rebels' first practice on Monday was the desire by at least two players to wear stirrup socks this season. As readers of this blog know, I am a firm believer that stirrups and sanitaries are to be worn by all who pick up a bat and ball. Neither solid socks nor, heaven forbid, pajama pants should ever be worn. (Click here for previous commentary on why stirrups are cool and the low pants look is hideous.)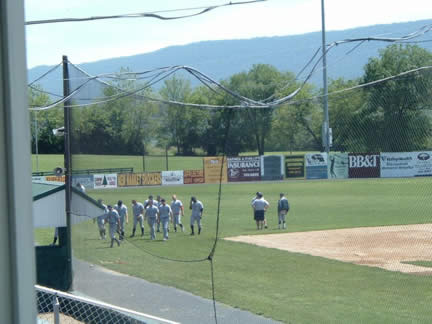 The first day of practice comes to an end at Rebel Park.
New Market hitting coach Mo Weber is definitely a stirrup fan as well. In fact, before he made his appearance at Rebel Park for the first practice, he had me check to make sure that the bottom of his pants legs were even just below the knees. They were.
We were both pleased to see first baseman Zach Hegelson and catcher Jacob Pierce excited about finding some genuine stirrups--and high ones at that--in the uniform pile. They loved Mo's look and the idea of going "old school." Mo, ever the instructor, promptly gave a talk on how to blouse one's pants, that is the art of rolling the stirrups, sanitaries, and pants legs together. (This makes a great sliding pad for your leg, by the way.) Jay Lively, a southpaw pitcher, soon joined the conversation and eyed with approval the stirrups that Jacobs and Hegelson were holding. We may have at least a third stirrup convert.
Stirrups are a classic look and it's nice to see something classic return. Hegelson and Pierce have certainly figured out that you may go 0 for 4 and you might make 3 errors, but you'll look better doing it in stirrups. Style never goes into a slump.