Father's Day at Rebel Park
June 22, 2009 - Austin Gisriel
What a great Father's Day at Rebel Park yesterday! A beautiful, breezy day with the cloud shadows meandering across Massanutten, the bright light of the sun was exceeded only by the glowing pride of the many fathers and families in attendance to see their sons play. I had the pleasure of talking to Mackinnon Langston's dad, James Weiner's dad, and Jordan Pegram's mom, dad, and three adorable little sisters.
Indeed, I have been very impressed with the support the players have received this season from their parents, many of whom live at a distance of 4 hours or more. Saturday in Woodstock, I sat with Zach Helgeson's dad who taped Zach's every at-bat and called home with a personal report on almost every play in which Zach was involved. Jake Pierce's dad was there, as he often is, and it is hard to tell which son is his, he roots so hard for every Rebel. I was also able to chat briefly with Steve Owens parents that night. I've said hello to the Kivetts everywhere from Covington to Haymarket which means that they've literally traveled from one end of the Valley League to the other from their home in North Carolina.
My own Father's Day was made complete when Becky and her fiance Jesse surprised me by showing up at Rebel Park. My very first game at Rebel Park was with Becky some 7 seasons ago and it was wonderful to have her and Jesse in the booth with us while Charlie Dodge and I broadcast the game on the Internet.
To top it all off, the Rebels won 10-3 over Waynesboro. Even the Orioles won, and on a Sunday, too, a day on which, at one point recently, they were 3-27 in their previous 30 games.
I hope every Dad enjoyed the kind of day that many of us Dads enjoyed yesterday at Rebel Park.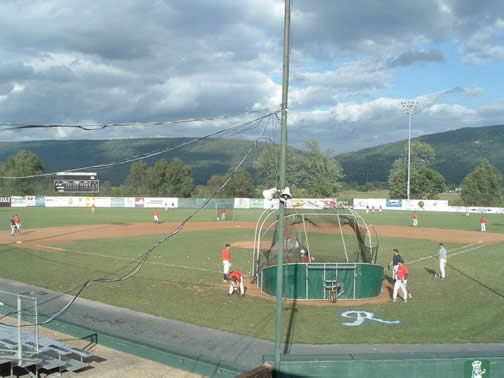 Waynesboro takes batting practice on a gorgeous Father's Day at Rebel Park.