A Wonderful Parent Weekend
July 10, 2009 - Austin Gisriel
It was great to meet and talk with so many parents of New Market Rebel players this past weekend. I spoke with the Owens, the Weiners, the Kivetts, the Hammonds, the Livelys, Lynn Helgeson, and Jake Pierce's mom and grandmom, as well as two fiancees and a long-time girlfriend! Everyone seemed to enjoy Saturday's celebration in the Community Park and I saw many parents lining Congress Street as the Rebel float went by. As an adopted son of New Market, I certainly hope that you all had a good time and will return soon. (Surely, you'll be back for the playoffs!)
Though Sunday's rain forced a postponement of the game against Staunton, it did not deter the fun and fellowship that took place during the picnic. Parents, if you haven't figured this out by now, be advised that whenever there is an official Rebel gathering, there is always plenty of food!
I am also happy to report that the Old-Timers Workout, went extremely well. Everyone had fun and no one got hurt! It was especially gratifying to see General Manager Bruce Alger there. He puts in so much work at Rebel Park so it was nice to see him get a chance to play at Rebel Park.
To Bruce and the entire Rebel organization: Congratulations on a job well done!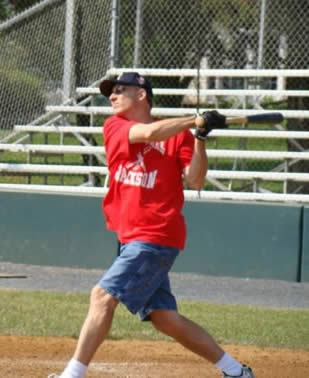 Rebel G. M., Bruce Alger shows some seriously excellent form
during Old-Timers' BP. Mo would be proud!
(Photo courtesy of Melissa Dodge. For more photos of the entire Parent's Weekend, check out the Photos page.)