South Wins 1-0 Thriller
July 13, 2009 - Austin Gisriel
The South squad scored only one run, but it was enough to defeat the North squad in yesterday's Valley Baseball League All-Star game. Three Rebels figured prominently in the affair. Richie Gonzalez scored the only run, having reached on an error. Eric Alessio started and allowed just one hit in two innings while Brian Burgess retired the side in order.
Harrisonburg's Bobby Brown took the South MVP honors with a 2/4 effort and the game's only RBI, but Alessio was my MVP. Eric was the only hurler on either side to hurl more than one inning and how does a pitcher not get MVP consideration in a shutout?
Brian Burgess who closed the game readily admitted to being nervous. "I've never seen so many guns," he said referring to the radar guns that a score of scouts hoisted in unison to clock every pitch of the game.
The boxscore will give fans all the details. Now the march to the playoffs begins!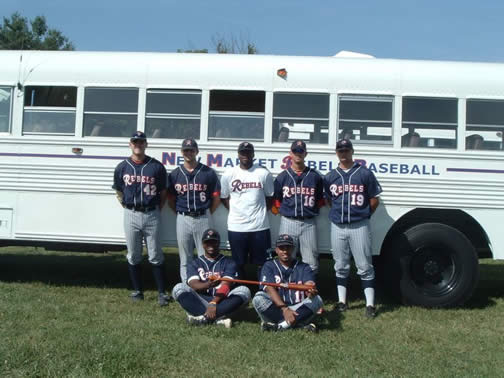 Rebel All-Stars from l. to r., Zach Helgeson, Head Coach Lucas Jones,
HR Derby participant Sanchez Gartman, Brian Burgess, Eric Alessio. Seated Kenny Mickens and Richie Gonzalez.
(Shadows across the faces occur when the team PR guy rather than the team photographer takes the photos.)
View original post with comments.