Even the Shouting is Over
August 14, 2009 - Austin Gisriel
The 2009 Valley League season is now complete as Haymarket defeated Covington for the Jim Lineweaver Cup on Wednesday night. Congratulations to Haymarket, a team that went an impressive 7-1 during the playoffs. There is nothing now for us VBL fans to do but read John Leonard's post-season awards and wait for the countdown-to-Opening Day clocks to appear on the websites of various teams.
Of course, I'll be reliving the 2009 season as I complete and edit, Safe at Home: A Season in the Valley which is scheduled for a December 1st release. Many people have told me that they can't wait to read my book. Me neither!
I have often used the analogy that writing this book is like dry-stacking a stone wall: You just gather up plenty of stones and then start fitting them together. In those terms, the length and height of the book is complete. I have only a couple of stones to set in a few spots and then it will be time to chink it; that is, fill in little pieces here and there. After that the wall inspectors, which is to say, editors, will do their thing.
I will continue to post updates on Safe at Home's progress as many folks have asked for them. In the meantime, I have posted a photo below that summarizes almost 25% of the season.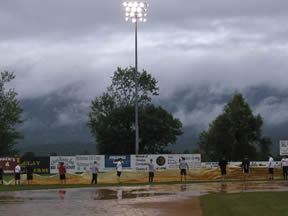 Photo courtesy of Al Smith
That's right: There were 9 regular season rain-outs and one rain-out in the playoffs. Two games were suspended for
rain and fog, respectively, and the resumption of one of the suspended games was itself rained out.