A Painful Record
May 21, 2010 - Austin Gisriel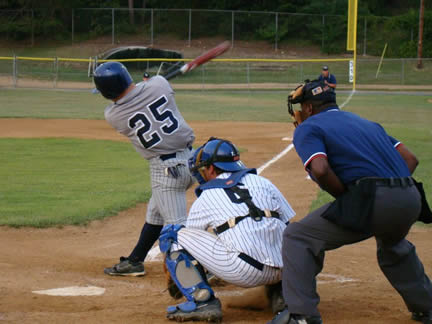 Kevin Rufus takes his cuts against Luray.
(Photo courtesy of Melissa Dodge.)
The 2010 New Market Rebels Press Guide and Record Book is now available for Rebel fans. Produced and written by the crack Rebels publicity department, it is so hot off the press that a price hasn't even been set!
One of the more interesting records established in last year's campaign was that for being hit by the most pitches. In 2009, Kevin Rufus set the all-time Rebel record when he was plunked 18 times. Interestingly, Kenny Mickens is second on the list with 11, while Zack Helgeson is tied for third with 10. Both played with New Market last year. The 2009 season was a big one for being hit by a pitch!
The most HBP's in a major league season is an astounding 51 by Hughie Jennings of the old Baltimore Orioles in 1896. Hughie hit .401 that year with an on-base percentage of .472, striking out only 11 times during the season. In 1971, Expos second baseman Ron Hunt just missed tying the record when he was hit 50 times. Hunt's OBP was .402 that year.
Minnie Minoso led the AL in being hit by a pitch in 10 different seasons, a major league record. Minnie was plunked more often than any other American Leaguer every year from 1951 to 1961, with the exception of 1955. Hunt has the National League record for most seasons leading the league in being hit by a pitch with 7.
Let's hope that the Rebels get hit less often this year (especially Kenny Mickens, since #11 put him out for the year) and that they establish a record for most wins in a season!