A Mo-mentous Week
June 28, 2010 - Austin Gisriel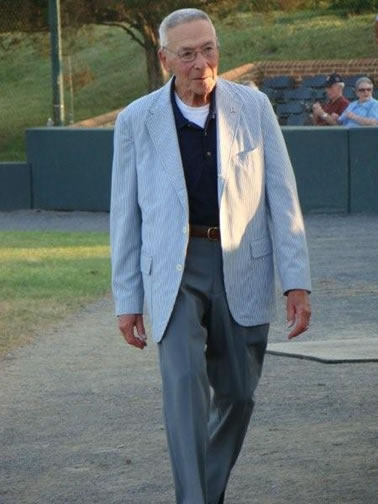 A friend of mine retired last week, the day before his 87th birthday. Mo Weber buttoned his jersey, pulled on his stirrups, and bloused his pants for the last time this past Wednesday. For 65 summers, he had gone to work, teaching young men the game of baseball. To see him discuss the game, however, is to realize that work is not the appropriate word. No, it would be much more appropriate to say that he answered his calling to teach the game that is his passion.
How many moments comprise those 65 seasons? Mo can recount a phenomenal number of them. Ultimately, however, as in all things, the final moment arrived. Passion cannot overcome 95 degree afternoons behind the batting cage and long rides in a bus with no air-conditioning to Covington and Haymarket and other points up and down the Shenandoah Valley. Not when you're about to turn 87. And not when the game excited you so, and the players meant so much, that even at 87, you couldn't sit down in the dugout, but would instead pace up and down offering encouragement.
Many Rebel fans were saddened, even dismayed by the news of Mo's retirement. Not I. For now, we get Mo's company in the stands. The grandstand is now a throne and baseball courtiers will slide across their bleacher seats to listen in on a lifetime of baseball knowledge, soaking up Mo's passion for the game and compassion for the young men who play it.
Ironically, retiring as a coach has allowed Mo to stay in the game. With no 5 o'clock batting practice to attend and no long bus rides, Mo has energy enough to be a fan.
I'll miss standing in the afternoon sun behind the cage, listening to Mo instruct and encourage his hitters. I'll miss the runs to Subway which we routinely took once batting practice ended and the other team took the field. . . But then, I have a long list of things that I miss . . .
Happy birthday, Mo, enjoy your retirement, and welcome to the stands.
Photo courtesy of Melissa Dodge. See more of Melissa's photos from Mo's birthday celebration.