Diamonds in the Rough:
Learning about Life and Baseball

Members of the "Grandstand Managers Club" pay $75 a year to sit in the seats behind home plate and give the umpire an earshot of complaints.
Story by BOB DART
Sol Quinn, a retired FBI agent, plays "Charge" during Rebel rallies and "Take Me Out to the Ball Game" at the seventh-inning stretch during New Market games.
NEW MARKET, Va. -- The aroma of frying onions is wafting out from the concession stand and the Eagles are singing "Take It Easy" over the PA system. Carrying the accordion he will use to play "Take Me Out to the Ball Game" during the seventh-inning stretch, retired FBI agent Sol Quinn sidles by a flower box of red geraniums to reach his seat behind home plate. Players from the New Market Rebels are raking and lining the infield.
For the college players who have come for 37 summers, the dusty diamonds of the Shenandoah Valley League are fields of dreams. They know that Mo Vaughn of the California Angels and Steve Finley of the Arizona Diamondbacks and scores of other major leaguers played here in summers past. They know that baseball "bird dogs" with radar guns and stopwatches sometimes sit amid the friendly fans behind the chicken-wire backstops.
"A lot of scouts come to games and the coaches have pretty good connections," explains Tom Perrin, 21, a shortstop from West Palm Beach, FL, and the College of Charleston. "That's what you're here for."
They see the Valley as a step toward million dollar contracts and prime-time play. But even those who will never draw a baseball paycheck can gain from a summer spent living with a local family and working on a farm or corner grocery. Many experience an America that they knew only from TV.
"It's kinda like Mayberry here. Everybody knows everybody," marvels Charlie Wentzky, 20, a pitcher from Anderson, SC, and the College of Charleston. "It's amazing that there are people like this left in the world -- with all the shootings and robberies and stuff. They don't lock their doors. Basically, they don't live by the watch. They come and go as they need to."
Players learn about social networks by watching the community unite to finance a season and welcome a team of strangers into its midst, explains Larry Strawderman, the Rebels' volunteer general manager.
"They learn life."
*****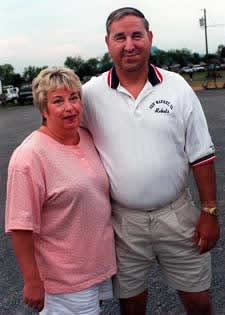 Jean and Everett Morse - known to the players as "Mama Jean" and "Big E" - have provided dinner for the Rebels at their house in New Market after every game for the past five years.
Two of the teachers are "Mama Jean" and "Big E."
New Market Rebels of several seasons ago gave the nicknames to Jean Morse, a wife, mother, hairdresser, school bus driver, cook and hostess, and her husband, Everett, a husky state trooper.
For the past five seasons, after every game, home and away, "Mama Jean" has fed the team. She cooks for 25 players -- plus coaches and an occasional visiting parent or girlfriend -- at her house with an inviting front porch located a few of blocks from Rebel Field. Afterward, players watch TV, play cards and talk for hours, often spending the night.
"My policy: I go to bed when I'm ready," said Jean Morse. "I woke up the other morning to find that nine players had slept over."
Scattered along Interstate-81, there are six teams in the Valley League: the Winchester Royals, Front Royal Cardinals, Harrisonburg Turks, Waynesboro Generals, Staunton Braves and the Rebels. With a population of 1,500, New Market is the smallest host community. It is a town without taverns or other late-night establishments.
"The team needs a place to group, bond, hang out and get to know each other," said Morse. "It's a home away from home."
The summer grocery bill is "astronomical," she admits.
"The food she puts out is amazing," said Chinea.
The menu after a recent Friday night home game included fried chicken, macaroni and cheese casserole and coleslaw. Sometimes there is pizza or spaghetti or lasagna or cold cuts for sandwiches.
"At 2 o'clock, I'm cleaning up the mess," said Morse, whose efforts are voluntary and self-financed.
There's one ironclad rule.
"If any have been drinking, they don't drive from the house. I take their car keys," she said. "And anybody who thinks college students don't drink beer is kidding themselves."
There is also the deterrent of "Big E," with his state patrol car parked in the driveway. Not that there have ever been problems.
"The college coaches don't send bad boys up here," says Jay Zuspan, who has hosted players on his Christmas tree farm outside of New Market for six summers. "They won't send us trouble."
"You won't meet a more polite group of young men than these baseball players," echoes Morse, declining to name the only two exceptions in five seasons.
Some of the players keep in touch after they leave. Others don't. She follows all their careers.
"When Marshall McDougall from Florida State hit six home runs in one game this year, I said, 'Why, he slept on my couch'," she recalled. "I keep telling them, when they get to the big leagues, don't forget about Mama Jean in Virginia."
*****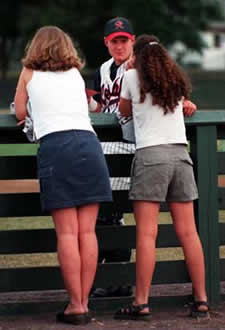 Young admirers lean over the fence near the left field foul line to get a good view of the Rebels' catcher, Billy Collins, who is from the University of Pennsylvania.
During the early innings, the setting sun warms the backs of the 400 or so fans who paid the $3 admission to Rebel Park. Massanutten Mountain looms above an outfield fence painted with advertisements from local merchants. Giggling teen-aged girls lean over the railing near the third base dugout to gaze at their favorite Rebels.
Charlie Wentzky is the cutest player, agree Kim Leitzel and Katelyn Linski, both 13. They come to most games, as do their contemporaries.
School is out, so "you get together at the game," explains Katelyn.
In the green chairs behind home plate sit the "grandstand managers," club members who pay $75 a year for this prime position for viewing, socializing and grousing at the umpire. Many are retirees from the nearby Bryce Mountain Resort. Visiting fans -- mostly host families from other league towns -- sit in bleachers near the first base dugout.
The Rebel Park announcer welcomes by name and hometown the visiting moms, dads, grandparents and girlfriends of players on both teams.
Between innings, some fans cut through a neighboring yard to get black raspberry sundaes or fresh peach shakes at Pack's Frozen Custard stand. Others spend $1.25 for a Rebel Park hot dog topped with those fried onions. Kids chase foul balls and return them for a pack of baseball cards.
"I enjoy watching the town turn out for games. The whole summer schedule is wrapped around this ball park," said Martha Sims. She and her husband, George, are both Lutheran ministers as well as family hosts for a player.
"This is baseball the way it was in the 1950s," says Mo Weber, the Rebels' 76-year-old batting coach.
Retired from coaching at the College of William and Mary, he banters easily with players who kid him about personally knowing Abner Doubleday or coaching Joe DiMaggio in Little League.
"The players are flat-out better today," he says. "They are physically bigger, stronger, faster, better conditioned. They know more about anatomy and physiology."
After seven decades or so of baseball, he loves to hear the ump say "batter up."
"I'm fortunate to still be in the game."
*****
"It's laid back compared to the city," says Matt Henrie, 19, a pitcher from Jupiter, FL, and Clemson who is spending the summer with the Winchester Royals. The host families "invite you into their home and treat you're their own kid. I was a little nervous at first, but now I feel at home."
The league schedules 40 games in 55 days. Then there are playoffs for the top teams. The longest road trip -- between Staunton and Winchester -- takes about 90 minutes by bus. The players are not paid, although the league picks up the tab for their airfare from home and back and helps to find them summer jobs.
On this night, Henrie and the rest of the Royals are visiting Bing Crosby Field in Front Royal.
The crooner was grand marshal of the 1949 Apple Blossom Festival, explains Linda Keen, the Cardinals volunteer president. The next year, he hosted a movie premier in Front Royal and performed at a benefit and even donated his own money for the white cinder block stadium that now bears his name.
Henrie is spending the summer about 20 miles away in Winchester, a bustling community known for its apple orchards and as the hometown of Patsy Cline.
"I like it," said Henrie, who played his high school ball at Cardinal Newman. "The scenery is very different and it's a chance to get out of that South Florida heat for the summer."
Most of the players are hopeful of playing professionally, but they know the odds are long.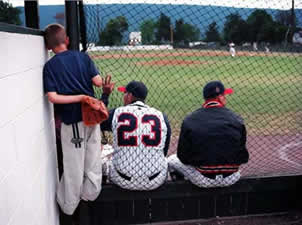 Little Leaguers in the Shenandoah Valley grow up hoping to someday play in the major leagues. Literally half of the New Market population attend games.
"My main goal since Little League -- and the main goal of most of the players here -- is just to keep playing as long as we can," said Jeff Reardon, a New Market Rebels pitcher from Siena College in Albany, NY
So far, at least, they are enjoying the culture shock of living slow in the Valley.
"I don't think California has a town this small," says Tom Adinolfi, a New Market pitcher from San Jose State. "I'd been here two days and already people on the street were saying, 'Hi Tim'."
"With a bunch of teammates, you can't get bored," said Perrin, the Rebels shortstop who played high school ball at Wellington.
"It's nice and quiet," said Peter Kocur, 19, a Rebel pitcher from Fort Lauderdale and Florida International University. "The only thing to do is concentrate on baseball. There are no distractions."
Dave Biery, who works at an auto parts dealership in Staunton, is president of the Valley League. The position pays $200 a year. Only coaches and umpires receive real salaries. Most everybody else is an unpaid volunteer. About 20 percent of the league budget comes from Major League Baseball through an NCAA program. The NCAA sanctions several such summer leagues scattered from Alaska to Cape Cod.
"Each team does its own recruiting. They compete with each other for players as well as with other leagues," said Biery. "The main selling point is the quality of the league."
Since admissions pay the bulk of the bills, promotion is an important element of the league. There are contests for the best decorated lawn chairs, for instance. And New Market has an incongruous Chicken Man who cavorts during some games.
The team got a good deal on the suit through the Internet, explained GM Strawderman. "He's a Rebel chicken."