Daily News-Record (Harrisonburg, VA)
JMU North: Rebels Get Their Men
By Mike Barber - Daily News-Record - June 13, 2009
NEW MARKET - The trio of James Madison Dukes playing summer baseball for New Market can't help but feel at home at Rebel Park. JMU played three "home" games there in March and the ballpark has a giant JMU logo on a billboard in center field.
It's not an accident.
Luring coach Spanky McFarland's JMU team to the quaint ballpark - capacity: 1,000 - and signing some of the Dukes to play on his Valley Baseball League squad have long been goals of team president and general manager Bruce Alger.
"This is something that is new to us, but something we've wanted to do for a long, long time," Alger said Friday. "2009 has been a great year for us in developing our relationship with JMU and Spanky's program."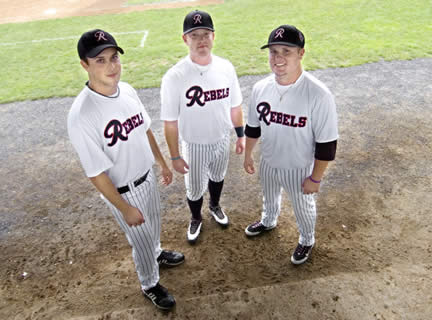 Three JMU students play for New Market Rebels for the summer.
Pictured (from left) are James Weiner, Matt Townsend and
McKinnon Langston. (Photo by Nikki Fox/Daily News-Record)
New Market's roster includes outfielder Matt Townsend, third baseman Langston McKinnon and left-handed pitcher James Wiener, all of whom signed to play for the Rebels in the fall, a few months before the Dukes played a three-game series against Bryant College at Rebel Park.
JMU was hosting the Colonial Athletic Association women's basketball tournament on the same dates the baseball team was set to entertain Bryant. Not wanting to hold the two events on campus simultaneously, Madison officials were eager to move the series - and Alger was waiting with open arms.
For Alger, it was a chance not just to make money selling tickets and concessions but also to attract new fans to his facility. "It just opens up our community to good baseball and JMU," said Alger, part of the organization since 1965. "Of course, it's a benefit for us to have JMU come to our ballpark and it's good for JMU to make fans up here."
And, Alger quickly noted, he'd like to do it again.
"The door is open," Alger said, noting New Market was so happy to host the event it presented McFarland with the key to the town. "Spanky knows we'd love to have him back."
That likely won't happen in the near future. McFarland said Friday he wouldn't be eager to give up home-field advantage by playing off campus again, but he said he would consider it again "down the road" because it was a positive experience.
"In college baseball, the home team wins about 70 percent of its games because there are nuances to every field," McFarland said. "You hate to give up home games, because you have a better than average chance of winning."
The Rebels hung the JMU billboard - which actually has a larger Duke Dog logo than anything on display at Madison's real home park, Long Field - to help the team feel at home when it hosted Bryant on March 14-15.
Bryant took two of three games in cold, rainy conditions. Still, Townsend, Langston and Wiener said those games made them look forward to playing for New Market this summer.
"I think everyone saw, especially since it was raining and the community still came out here, I think everyone saw this is a good place to play baseball," Wiener, a Charlottesville native, said. "Around here, baseball's pretty big."
The rest of the New Market players live with host families in the area. Jones said the JMU trio had that option, but chose to keep living in their Harrisonburg apartments.
So why not just play for Harrisonburg's Valley League team - the Turks? Players and coaches cited a number of reasons, chief among them JMU assistant coach Jay Sullenger's close relationship with first-year New Market coach Lucas Jones.
Sullenger, who handles JMU players' summer arrangements, got to know Jones when Jones was an assistant at Virginia Commonwealth.
"It's always good to send your guys over to somebody you know is going to take care of them," Sullenger said. "You don't always have that many friends coaching summer ball, so when you do, you want to take advantage of that."
This summer, three of the four Dukes in the Valley League are with New Market. (Kent Burford is with Staunton.)
Turks owner and manager Bob Wease, who had JMU pitcher Justin Wood on his roster last year, said he'd like to have more Dukes on his team in the future.
"I would love to have four JMU players every year, because JMU players can definitely play in the Valley League," said Wease, who played for Madison. "I guess what I need to do is I need to call JMU in the fall. I usually do, but we never seem to get any players, but I would love to have JMU players."
New Market is happy to have its Dukes.
Townsend is the star of the group. He took a medical redshirt for 2008 after playing in just 13 games because of a wrist injury. This past season, as a junior, he started 53 games, led the team with a .390 average and 17 home runs and tied for the team lead in RBIs (57) and runs (60).
"Matt Townsend would probably be a good fit for anybody following the season he had," Sullenger said.
JMU students Matt Townsend practices batting before a game.
He and two other Dukes play for the New Market Rebels this summer.
(Photo by Nikki Fox/Daily News-Record)
Townsend, who had a record-tying 34-game hitting streak for JMU this spring, has started slowly swinging the wooden bat for New Market. He was just 1-for-10 through three games heading into Friday's contest against Rockbridge at Rebel Park.
"Townie's just got to make some adjustments," Jones said. "He had a great college year."
Langston played in one game so far, and is 1-for-3. After a huge freshman season, Langston's production dipped some last year. Still, he hit .286 with two home runs, 29 RBIs and 28 runs. At JMU, Wiener appeared in 21 games, mostly as a situational reliever. He went 2-2 with a 9.31 ERA. In his one appearance for New Market, he allowed two runs in one inning.
For all three Dukes, playing games at Rebel Park in March, being able to keep their apartments, and playing for a team whose coach has ties to Sullenger were all major benefits to spending the summer in New Market.
And, Wiener said, it's nice for the three to be together on one team.
"We could have split up if we wanted to, but I think having a couple of guys from your home team helps you out in summer ball," Wiener said. "You have a couple guys you're a little more acquainted with."
Reproduced with permission of the copyright owner. Further reproduction or distribution is prohibited without permission.