Daily News-Record (Harrisonburg, VA)
Rebs Have Their Own Agent Zero
Burgess Collects Saves, 0.00 ERA
By Matthew Stoss - Daily News Record - July 24, 2009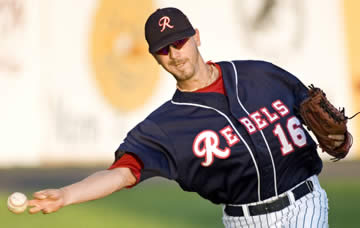 Brian Burgess warms up before New Market's game
Thursday (Photo by Nikki Fox/Daily News-Record)
NEW MARKET - Steve Owens has many stories about Brian Burgess - most of which have nothing to do with baseball. The best one isn't printable nor is it about baseball.
The second-best story, however, is about baseball and says quite a lot about what kind of pitcher Burgess has been for the New Market Rebels this season.
Owens recently had a conversation with an opposing hitter who had faced Burgess, a sidearming closer from the University of West Alabama.
"I went up there and looked at three straight pitches and walked away," Owens, also a New Market pitcher, said, quoting the player. "He wasn't even going to attempt."
Judging by Burgess' statistics, it wouldn't have mattered if he had.
The 6-foot-1, 190-pound right-hander has pitched 18 1/3 innings with an ERA of 0.00 - if that counts as an ERA. The Huntsville, Ala., native with an ever-changing hairdo (he currently rocks a mohawk after having a lightning bolt and flaming baseball shaved into his hair earlier this season) has allowed just 10 hits and three walks while striking out 34. Opponents are batting just .154 against him and he has allowed only one runner to reach third base.
"He wants the ball, and it's tough
to get the ball out of his hand. He
wants to pitch every night and he
wants to pitch in close games."
—Lucas Jones
Rebels Manager
So why is Burgess so hard to hit?
"Cause he's filthy," Owens said, emphatically. "... I've stood in on a bullpen. If you're going to hit it, it's got to be a mistake."
Apparently, there haven't been many mistakes. Burgess is 1-0 and has seven saves. During the college season, he broke West Alabama's season saves record, recording 11 (the previous record was 10). He also had a 3.31 ERA in 35 1/3 innings and struck out 38 while walking only eight in a team-high 26 appearances for the 38-16 Tigers.
That success is a direct result of Burgess' sidearm delivery, which he used as a gimmick pitch in high school. He said if he was ahead in a count and needed a strikeout, he would drop down just to give the batter a different look.
In college, however, his coach saw him messing around with the delivery during the fall of his freshman year and suggested he switch to it full time. Burgess - who redshirted that season and used to throw with a three-quarters motion - spent the entire year working on it, tweaking the grips on his fastball, changeup and slider (probably his "filthiest" pitch) and adjusting the release points on his new arm angle.
West Alabama coach Gary Rundles said he thought Burgess would make a good a sidearmer because of Burgess's athleticism (he was recruited as a shortstop/pitcher). Rundles also thought the new arm angle would give Burgess' "stuff" the edge that Burgess had in his head - characterized by his unusual, punk-rock hairstyles and reputation for dugout mischief.
"He just wasn't as convincing and dominating as you'd want," Rundles said. "So we decided to drop him down to give him some deception. Just try it out as an experimental thing. ...
"It was something to give him an advantage, and like I said, he played shortstop and was used to grabbing slow rollers and flipping it over to first. We just felt like he would make that adjustment well, and he has."
The decision to switch was an easy one for Burgess.
"Coach said there would be more playing time for me," he said. "I couldn't have played if I stayed where I was."
Burgess said it took him about a year to get comfortable with new arm slot, but once he figured it out, he said there haven't been any issues with maintaining it consistently after spending his whole life throwing "overtop."
"It took some getting used to," the 21-year-old rising junior said. "I had to get my arm down there and keep it down there."
But there have been other perks besides the invisible ERA. Burgess said the sidearm delivery puts less stress on his shoulder, allowing him to pitch consecutive days without any problems. He's also kept the same mid-80s velocity (he said he tops out around 88 mph) he had with his old delivery.
While the deceptive arm action and pitch movement is nice, Rundles and New Market manager Lucas Jones said Burgess' success had more to do with that edgy demeanor, which Owens described with stories of Burgess staring down batters, and on occasion, entire dugouts while on the mound.
"He just has that mentality," said Jones, an assistant at Randolph-Macon during the college season. "He wants the ball, and it's tough to get the ball out of his hand. He wants to pitch every night and he wants to pitch in close games."
That's not a bad story, either.
Reproduced with permission of the copyright owner. Further reproduction or distribution is prohibited without permission.