Daily News-Record (Harrisonburg, VA)
Rebels Topple Turks In 11
By Matthew Stoss - Daily News Record - June 4, 2010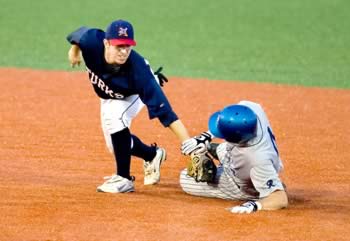 New Market's Ryan Williams beats the throw to Turks
second baseman Joshua Band on a double in the
fourth inning Thursday.
(Photo by Michael Reilly/Daily News-Record)
HARRISONBURG - It's hard to pick a cleanup hitter when you have only a few days worth of familiarity with your players. But Corey Paluga did a good job working with limited information.
In Thursday's Valley Baseball League opener against the Harrisonburg Turks, the New Market Rebels manager stuck Jordan Owen in the four spot, and it paid off.
The right fielder went 5-for-6 with two RBIs and what turned out to be the game-winning hit in the top of the 11th inning to lead the Rebels to a 3-1 win over the Turks in the first VBL game played at Eagle Field.
"He had a great spring season," Paluga said of Owen, who hit 18 home runs at Tennessee-Martin. "He has a lot of pop in his bat, and I felt like he was in the best position to start with [at cleanup].
Owen's game-winner, though, came with very little pop.
With two outs in the 11th, Owen - who went 4-for-5 in a scrimmage against the Rockingham County Baseball League's New Market Shockers on Wednesday - fisted a fastball from Turks reliever Stephen Styck (St. Joseph's) into center field for a broken-bat bloop single to give New Market a 2-1 lead. The Rebels made it 3-1 on a single by first baseman Francisco Ramirez (Rio Grande).
"Just got a first-pitch fastball," said Owen, who also tied the game at 1-1 with an RBI triple in the third inning. He also had a double Thursday. "Hit a jam shot."
Except for a single by catcher Brett Armour (Young Harris), the Turks went quietly in the bottom of the 11th. They did, however, threaten in the ninth and 10th innings.
Harrisonburg got runners on second and third with two outs in the 10th, but shortstop Joe Huber (St. Joseph's) grounded out to end the inning.
The Turks - who were hitless from the second through the eighth innings - also had a chance to avoid extra innings, but ran themselves out of it in the ninth. With two outs in the bottom of the ninth, J.J. Loker, a Spotswood High School grad now playing at South Carolina-Aiken, singled up the middle.
New Market second baseman Jason Coker (North Carolina-Pembroke) cut off the ball in shallow center field. Harrisonburg manager Bob Wease tried to score left fielder Tyler Carpenter (Texas-San Antonio), who had reached on a walk, from third base. Carpenter was out at home plate.
Wease said it was a risk you should always take - especially with the way Harrisonburg had been hitting.
"If you don't get a hit for eight innings and you get a chance to score a run, you take whatever chance you can get to score that run," a fiery Wease said. "You gamble, and that's what it is: a gamble. And if you hold the man at third, you still got to have a base hit to win. I'd send him again."
In the third inning, the Turks had a chance to keep New Market off the scoreboard. Coker led off the inning with groundball to short. Harrisonburg first baseman Emilio Pagan couldn't handle the throw, and two batters later, Owen tripled to center field tie the game.
It was the lone blemish on starter Kurt Wunderlich's day.
The Turks' starting pitcher tossed six innings and struck out nine. The 6-foot-1, 210-pound right-hander gave up six hits, three walks and one run.
He was relieved by Styck in the seventh. Styck (0-1) went five innings and gave up two runs and four hits. He struck out three.
"I thought the pitching did very well," Wease said. "Kurt did a good job and Styck ... he did a great job."
Rebels starter William Falasco also threw well. The right-hander from the University of Richmond went six innings and struck out six. He gave up only two hits and one walk. The only run he allowed came off a single by Armour in the first inning.
Four New Market pitchers combined to pitch five innings of shut-out relief.
"We just ask them to come in and throw strikes, keep the ball down and get groundball outs, and that's what they did," Paluga said. "There were a couple of different innings where we could have buckled and given it away."
New Market 001 000 000 02 - 3 10 0
Harrisonburg 100 000 000 00 - 1 4 1
Falasco, Guengerrich (7), Kreuter (8), Ward (9), Hearell (11) and Maloney; Wunderlich, Styck (7) and Armour. W - Ward (1-0). L - Styck (0-1). Sv - Hearrell (1). HRs - none.
Reproduced with permission of the copyright owner. Further reproduction or distribution is prohibited without permission.