Randolph-Macon College Baseball team wins ODAC Championship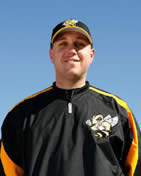 Ray Hedrick is a former New Market Rebels Head Coach (2001 - 2003) and Head Coach of the Randolph-Macon College Baseball team. They have just won their Division chapionship and guaranteed themselves a place in the 2008 NCAA Tournament.
Randolph-Macon College press release
Ray Hedrick was head coach of the New Market Rebels for three years (2001-2003). During his tenure, Hedrick had a record of 77 wins to 60 losses and led the Rebels to two championship appearances, winning the league championship in 2002 and falling seven outs short of repeating in 2003. Over the course of those three summers, Hedrick coached over 30 players that are now playing on the professional level, including current major league pitchers Mike O'Connor (Washington), Chris Ray (Baltimore) and Jared Burton (Cincinnati).