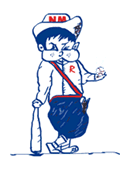 New Market Rebels Name Lucas Jones as Head Coach for 2009
NEW MARKET, VA, October 13, 2008 – At a signing ceremony Monday night at Rebel Park, Rebels President and General Manager Bruce Alger introduced Randolph-Macon's Lucas Jones to the New Market family. Alger had been working to replace 2008 skipper Nolan Nieman after finding out that Nolan's new position as assistant Head Coach at Florida Gulf Coast University would not allow Nieman to return to the Rebels next summer.
Jones, in his first year as Assistant Coach at Randolph-Macon College made an immediate impact on the Yellow Jackets program this past spring, helping the school capture its first league championship since 1987, while making its first appearance in the NCAA Tournament since 1977.
Jones came to R-MC after spending 2007 with the Rams of Virginia Commonwealth University where he served as a volunteer assistant under Paul Keyes. While at VCU, he was a member the staff that helped guide the Rams to the 2007 CAA Championship and an appearance at the NCAA Tournament in the Myrtle Beach, SC Regional.
Jones spent the summer of 2007 working in the Valley Baseball League as a member of the coaching staff of the Winchester Royals. Spending a season as the assistant coach for skipper John Lowery offered Jones another opportunity to absorb baseball knowledge from one of the most respected team leaders in the VBL.

Now that Jones has been introduced to the New Market family, he will team up with Alger to search out the remainder of players needed to fill out the Rebel roster for next summer.