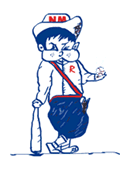 New Market's Rebel Park to host Division I Baseball Series
By: Jerry Carter - March 10, 2009

New Market Rebel General Manager Bruce Alger has been hoping to have James Madison University play a baseball series at Rebel Park for quite some time. This week-end that work in progress will become a reality when the Dukes host Bryant University in a three game series beginning Saturday at noon.

"It has been our desire to have James Madison come to Rebel Park for a long time now," Alger said. "We think it will be great for the organization and the community to have a D-I program with the class of JMU call our park home for a week-end."

JMU (8-5) has a pair of games this week with Youngstown State before welcoming Bryant to town for the Saturday double header. The format on Saturday will be a nine inning game one followed by a seven inning contest 20 minutes after the conclusion of the opener. The teams will return on Sunday at 1:00 P.M. for a single game to wrap up the three game set.

Admission will be $5.00 both Saturday and Sunday and New Market plans to open their concession stand and merchandise store for both days as well. Alger is trying to put the finishing touches on what he hopes will be a week-end to remember for both the schools and the town of New Market.

"I received a call from Kurt Dudley when a scheduling conflict showed up for JMU and I have working on all of the details ever since I hung up the telephone," Alger added. "I think we will be able to create a great collegiate atmosphere for the series. The town and the community will support the Dukes just like it was their home team."

Bryant University is located in Rhode Island and the Bulldogs will be playing a three game series at the University of Richmond before making the trek west to New Market. The Bulldogs are 5-2 heading to U of R with impressive wins over both Radford and Virginia Tech on Monday down in Blacksburg.

The weather promises to be more cooperative this time around after a scheduled series between two D-III schools had to be postponed back at the beginning of March when the snow storm came in to the Valley. Saturday should reach 60 degrees and Sunday there is a slight chance for rain at Rebel Park.