Rebel Southpaw Signs With Atlanta
New Market, VA—August 9, 2010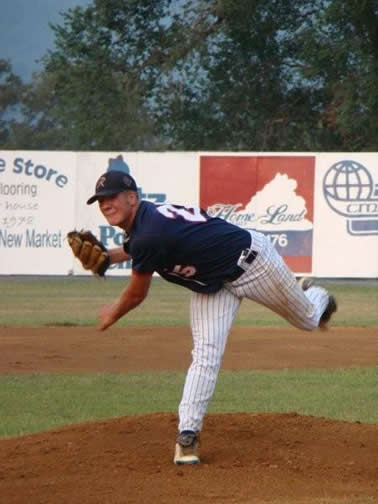 Photo courtesy of Melissa Dodge

The New Market Rebels are pleased to announce that left-hander Blaine Sims from Arkansas Tech University has been signed to a professional contract by the Atlanta Braves. Sims, who was 3-3 with a 2.95 earned run average in 12 appearances for the Rebels this season has already reported to Danville (Virginia), the Braves affiliate in the Appalachian League (Rookie).

"He deserves it," said New Market Head Coach Corey Paluga. "He quite possibly has the strongest work ethic of any kid I ever coached and he's got the stuff to pitch at the next level."

"This is a victory for the entire Rebel organization," stated New Market's President and General Manager Bruce Alger. "Everyone here, from the fans to the coaching staff to all our volunteers is proud to think that we sent Blaine on his way into professional baseball. When word of his signing got around the park Sunday night, the excitement was palpable. It was if we had won the championship," added Alger.

"Blaine matured mentally in a short period of time here in New Market," said Rebels' pitching coach Dan Rollins. "I thought from day one that there was something special about him and that has a lot to do with his work ethic."

Sims highlight with the Rebels this season came on July 16 when he threw a complete game, 8-1 victory against the Luray Wranglers.