Corey Paluga Will Return as Rebels Head Coach
New Market, VA—August 30, 2010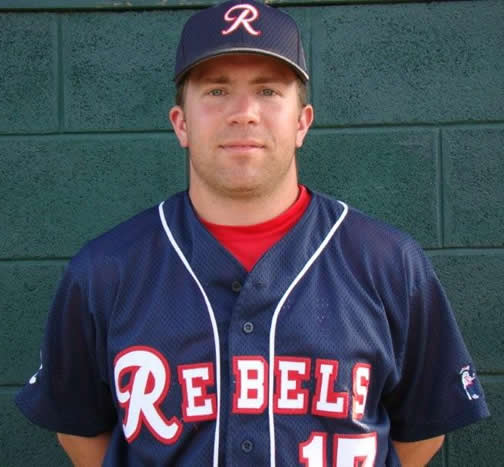 Photo courtesy of Millisa Dodge.
The New Market Rebels are pleased to announce that Corey Paluga will return for his second season as Head Coach.
"I am honored and excited that the Rebels asked me back for the 2011 season," said Paluga. "I am looking forward to improving on this past year and to spending another summer in the New Market community."
"I'm thrilled that Corey will be returning," said Rebel President and General Manager Bruce Alger. "He showed a great deal of patience when our club got off to a rough start this past season and ultimately, guided us into the playoffs.
"Corey not only brings a sound baseball mind to Rebel Park, he brings a strong sense of commitment to the New Market community," added Alger.
Indeed, Rebel coaches and players spent time at the local Boys and Girls Club, participated in the annual "Reading with the Rebels" day sponsored by the New Market Community Library, and spent an afternoon at Seven Bends Student Center at Ashby Lee Elementary for a "water fun-day."
Paluga, 26, began his New Market career in 2009 when he served as an assistant under Lucas Jones. He currently serves as the Head Assistant Baseball Coach at Stevens Institute of Technology in New Jersey.