Coach "Mo" Weber's Number Retired
New Market, VA—January 12, 2011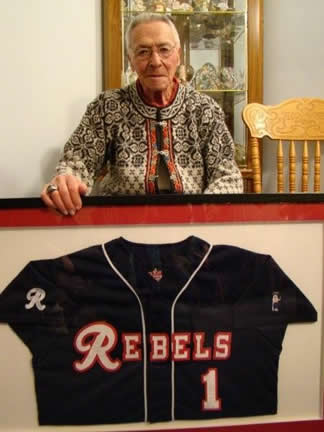 Former New Market Rebels coach Mo Weber, who retired this past June, was presented his jersey, at the Rebels Holiday Party on New Year's Day. Weber's number "1" was retired on June 24th—his 87th birthday. Rebel President and General Manager Bruce Alger made the presentation aided by Rebel assistant coach John Combs.
"You're number 1 in our hearts, we'll always love you, and thanks for a job well done," remarked Alger as he and Combs handed Weber the shadow box displaying Mo's home blue jersey.
Clearly moved, Weber told the approximately 40 guests that it was "a humbling experience" adding, "I'm short of words tonight."
"It's not too often Mo Weber is speechless," chuckled Alger, "but he was tonight."
Other highlights of the Rebels party included a report on the 2011 squad by head coach Corey Paluga. Unable to attend the gathering in person, Paluga addressed the audience via speaker phone. He noted that returning players include Tony Hearrell (Mars Hill College), Andrew Kirk (Alvernia Univeristy), Dan Schaefferman (George Mason University), and Cameron Ward (Limestone Collge).
Alger also announced that five new members had been named to the Rebels' Board of Directors and they include Charlie Dodge, Melissa Dodge, Austin Gisriel, Mike Jones, and Victor Moyers.
New Market opens the season June 3rd at Harrisonburg. The home opener, against Luray, takes place at Rebel Park on June 4th at 7:30.
View a video of the presentation: