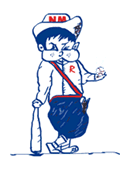 Rebel Roster Taking Shape
New Market, VA—February 2, 2011
There's nothing like talking a little Rebel baseball to brighten these gray winter days that have been filled with slush and ice. The preliminary roster has been released and features 25 players including 5 freshmen, 11 sophomores, and 13 juniors. At present, the roster features 2 catchers, 8 infielders, and 4 outfielders, although some players play multiple positions. The 11-man pitching staff is composed of 3 southpaws and 8 right-handers.
Returning Rebels include Dan Schafferman (George Mason), Cam Ward (Limestone), and Tony Hearrell (Mars Hill.) Ward, who relieved in 2010, is penciled in to this year's starting rotation.
Four players are coming to New Market from our standby college, UNC-Pembroke. The University of Delaware, VCU, and George Mason University are sending 3 players each to New Market while Wake Forest, UT-Martin, Limestone, and the University of Washington (as in the one on the West Coast!) will send 2 players each. Other colleges and universities represented on the Rebel roster include Flagler, Hofstra, Mars Hill, and St. Mary's (California).
As always, the roster as it stands this time of year is subject to a great deal of change. The constant, of course, is our desire to get these boys here and get the season started!