Northern Virginia Daily (Strasburg, VA)
Basye photographer became publisher, shaped his world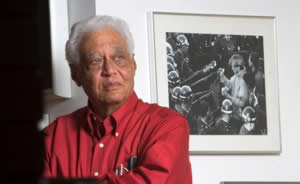 Former White House photojournalist Bernie
Boston stands in December 2006 beside his
famous "Flower Power" photo that was
Pulitzer Prize runner-up in 1967. -- Rich Cooley
(Northern Virginia Daily)
By Ryan Sonner (Northern Virginia Daily Staff Writer) - January 24, 2008
BASYE— During his lifetime, when Bernie Boston had a bad joke to tell, you were going to hear it.
"Some were real groaners," said Mike Geissinger, a longtime friend. "That's what made Bernie Bernie."
Fortunately for Boston, he made a career out of photography, and not cracking jokes. That means as those around him soon gather to celebrate his life, they have more than words to serve as evidence that he made an impact on the world around him.
Boston, 74, died Tuesday at his Basye home, bringing an end to his battle against amyloidosis, a rare blood disease. He was publisher of the Bryce Mountain Courier, a monthly newspaper he purchased with his wife, Peggy, when they moved to the area from Washington, D.C., his birthplace, in 1994, said Joan Anderson, a contributing writer who has known the couple for decades.
"They had a ball with it," she said. "He's leaving a big hole in this community."
Boston's arrival in Basye occurred after 13 years as a photographer for the Los Angeles Times' Washington bureau, according to an obit prepared by Anderson. He joined the Times after The Washington Star, where he met his future wife and Anderson, folded.
"It took him about a day to find a new job," said Dennis Brack, president of the White House News Photographers Association, of which Boston was a past president. "Bernie was always kind of the leader around [Washington] in many ways. The way he carried himself, his self-deprecating humor ... he wasn't in charge, but he was leading."
Numerous photographers and editors gather in Washington the second Thursday of every month, and Boston attended at least every other month, he said.
"We were twins separated at birth by nine years," said Geissinger, who also attends those lunches and publishes the Alexandria Guide Magazine.
The two met at the Rochester Institute of Technology, where they were both teaching, and where Boston graduated in 1955. He then studied aviation medicine in the Air Force and served time in the Army, spending two years in Germany as a radiologist in the neurosurgical unit, Anderson's obit states.
Boston was discharged in 1958 and moved back to Washington. After five years as an assistant manager at Custom Craft Color Service, he took a job at the Dayton Daily News in Ohio, and three years after that at The Washington Star, serving as the photography director, the obit states.
"He brought some insight and vision to everything he photographed," Geissinger said.
Boston's most noteworthy piece, "Flower Power," was a Pulitzer Prize runner-up in 1968. It depicts a Vietnam War protester placing a flower in the barrel of a National Guardsman's rifle outside the Pentagon. It was the cover shot for Boston's book, "Bernie Boston: American Photojournalist," which was published more than a year ago.
In the full negative for that picture, Brack can be seen among the troops, he said.
"[Bernie] always cropped me out," Brack said.
Because of Boston's ability to always find the right position for a shot, there's hardly any bad feelings. Boston's nature was to help others anyway, friends said.
"Bernie touched the world," Fishers Hill resident Linda Wheeler said in an e-mail. "Wherever he went as a photographer — and he always had his camera equipment with him — he made friends.
"[Peggy] once told me Bernie is an old shoe, wherever he goes he makes people feel comfortable."
Wheeler, who writes for the Bryce Mountain Courier and once was a rival of Boston's while she was with The Washington Post, is helping put together the February issue, said Anderson, who is assisting as well. The future of the paper will be decided later, she said.
A celebration of Boston's life will take place instead of a formal funeral, Anderson said, but a date has yet to be determined. An address for memorials to be sent is forthcoming as well. Bad jokes will be welcomed.
"He told the worst jokes in the whole wide world," Anderson said. "My husband always said, 'Bernie, I heard that one when I was in the third grade.'"
Peggy Boston could not immediately be reached for comment.
Reproduced with permission of the copyright owner. Further reproduction or distribution is prohibited without permission.