Northern Virginia Daily (Strasburg, VA)
For love of the game: New Market's Richard Gonzalez brings passion for baseball to Valley League
By Jeremy Stafford (Northern Virginia Daily Staff Writer) - July 23, 2009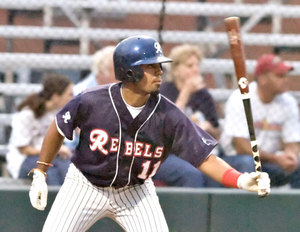 Richard Gonzalez prepares to hit against
Front Royal on Monday [7/20/09].
- Photo by Dennis Grundman / NVD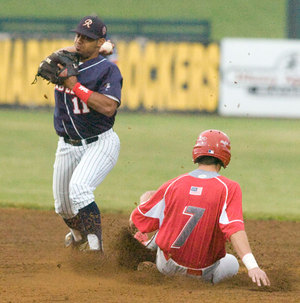 Gonzalez forces out Front Royal's Jesse
Henry at second base on Monday [7/20/09].
- Photo by Dennis Grundman / NVD

NEW MARKET—Rebel Park, in the morning's waking hours, is one of the most serene sights New Market has to offer.
The morning sun, rising over a distant horizon of trees and mountains, slowly stretches its way into the park's vacant dugouts, though neither dugout is quite empty. Dust and dirt blanket the green benches fastened to the wall of each dugout, and the concrete floors are littered with empty, flattened peanut shells and paper cups. In the corner of the third base dugout rests a broken down lime liner and a rolled-up metal drag.
The drag looks to have been used recently, as the infield shows the elegant grooves left by the links of its chains. Two mangled blue tarps barely shelter the pitcher's mound and batter's boxes from a night rain that never came.
The infield, so luscious and golden under the light of the morning sun, seems to be the one bit of Rebel Park that's cleaned and cared for each morning. Indeed, the beautifully chaotic scene is a hushed whisper of what baseball, at its roots, should be all about.
And sitting on a wooden bench under the gazebo behind the third base bleachers is Virginia Commonwealth University and Rebels second baseman Richard Gonzalez, resting comfortably in the shade and fiddling with his keys and cell phone.
Gonzalez, who grew up in Caguas, Puerto Rico, and plays baseball with the same ardor he had as a child, is another whisper of what baseball should be.
"It was awesome playing in Puerto Rico," Gonzalez recalls. "You know, play every weekend during the summer, play in the winter -- I lived on the baseball field.
"I practiced every day, I got to hit every day, and I loved it. I loved it."
It's little wonder that Gonzalez has become so fond of baseball, having first played the sport when he was 4 years old under the tutelage of his father, also named Richard, who had played amateur baseball in Puerto Rico before becoming Gonzalez's little league coach.
But a boy could only learn so much playing youth baseball on the weekends. And as Gonzalez got older, he caught word that a new team, based 30 minutes outside of San Juan, was holding tryouts for high school ballplayers.
By the time Gonzalez was in the eighth grade, in 2002, his older friends were already playing for that new team, which wasn't just a team, but a school, called the Puerto Rico Baseball Academy, founded by former Texas Rangers pitcher Edwin Correa to take in Puerto Rican youths and spew out top-level baseball prospects.
One year later, Gonzalez tried out for the school, was accepted, and was soon playing baseball with some of the most talented players in Puerto Rico.
* * *
There were 59 students in Gonzalez' graduating class, all of them baseball players, all of them young, testosterone-laden boys. For them, baseball practice began at 7:30 a.m. and lasted four hours. At 11:30, Gonzalez and his teammates had 90 minutes to shower and eat before classes started at 1 p.m.
"It was good, like, laid back, no drama, it was a great experience," Gonzalez said. "The classrooms, it got wild sometimes -- a lot of baseball players, you see papers flying around.
"And the baseball level, talent-wise, it was great, a lot of great players. Eight people got drafted from my class ... the year before my class 13 people got drafted."
And the local passion for watching baseball easily matched the talent of kids playing baseball. Puerto Rican parents banged on bongos, shook their maracas and sang at the top of their lungs as they sat in the bleachers, cheering on their sons and producing a flavor more befitting of a soccer match than a baseball game.
When Gonzalez wasn't playing baseball for his high school, he was traveling, often to Orlando, Fla., to play in an AAU program and a handful of other youth leagues. When he was 16, Gonzalez represented Puerto Rico in the Colt World Series, held every year in Lafayette, Ind. Puerto Rico lost in the championship game to an American team from Tampa, Fla., that year. But when Gonzalez thinks back to the tournament, his teeth streak across his mouth in a pearly smile, and his face brightens with a youthful jubilance, even under the shade of the New Market gazebo.
"The games would be packed, like four or five thousand people at the game," he said. "They loved us down there, [and we signed] autographs on the side.
"Being a 16-year-old, you don't sign too many autographs, so it was a great experience."
Moments after his championship defeat, Gonzalez was awarded the Colt World Series batting title for having the highest batting average in the tournament.
As each year passed, Gonzalez drew ever closer to graduating from the PRBA. Each year another one of his older friends continued with their baseball careers, being either drafted into the majors or recruited by colleges.
He watched his sophomore year as shortstop Sergio Miranda was given a scholarship by VCU coach Paul Keyes; and he watched the following year as catcher Carlos Rodriguez also left Puerto Rico to play for Keyes in Richmond. Little did Gonzalez know that he had already caught Keyes' eye, and in a year, he too would be playing as a Ram under the Richmond lights.
* * *
On March 18, 2007, Gonzalez sprinted along the VCU baselines in what was "probably the fastest I've rounded the bases," an oddity considering he had just hit his first and only home run of his college career.
In the first game of a doubleheader against James Madison, the teams were tied 8-8 going into the bottom of the final inning of a seven-inning game. Gonzalez, a freshman batting in the nine-hole, led off the bottom of the inning and worked himself to a 3-2 count against lefty hurler Jacob Cook.
There was no way, Gonzalez thought, that Cook would dare walk him with the top of the Rams' order waiting in the on-deck circle. Gonzalez knew he was sitting on a fastball.
"He threw it and I was just waiting for it," Gonzalez said. "It was a great pitch to hit, and it happened to go out.
"I didn't even see it go out, I just heard everybody screaming and going crazy in the dugout."
In a moment many would have savored by plodding along the perimeter of the diamond, drawing out the event for as long as possible, Gonzalez, in his excitement, flew around the bases.
But there were memories from that season which are far more precious to Gonzalez than that walk-off homer. He was an accomplished freshman, playing in all 60 games of the season, and starting in 57 of them. His performance earned him Colonial Athletic Association All-Rookie honors, too. But all Gonzalez wanted to talk about was how the Rams won the CAA title, and how, so badly, he wanted to win it again.
"We had a great year, we had one of the best teams I've played on," Gonzalez said. "Once we got in the tournament in the CAA, we just ran the tournament. We didn't lose one game.
"We got to play in the regionals at Coastal Carolina and that was pretty awesome, too."
And then there was the relationship he had built with Rams volunteer assistant coach Lucas Jones, who was finishing up his graduate degree at VCU, and in less than a year would leave Richmond for an assistant coaching position at Randolph-Macon College.
When Jones was named head coach of the New Market Rebels earlier this year, and so faced the task of recruiting a team, there was one name which soared above the rest: Richard Gonzalez.
* * *
New Market assistant coach Mo Weber, in the midst of his 16th year with the Rebels, doesn't have a computer. Still, Weber likes for the coaching staff to keep him updated with recruiting throughout the winter and spring.
The first status report Jones turned in to Weber, at first glance, read something like the back of a baseball card.
Name: Richard Gonzalez; School: Virginia Commonwealth University; Position: Second base. But in the column designated 'attributes,' Jones deviated from the norm. The first-year coach could have easily written about how he thinks Gonzalez has one of the best pair of hands he's ever seen at second base. Or he could have scribbled down a couple of Gonzalez' college statistics, such as his .305 batting average in 2008, but he didn't.
Instead, Jones wrote something more eloquent, something more from the heart.
Under attributes, he wrote: "The best kid I've ever met."
"I've been around a lot of good guys for three years," Jones said. "Richard takes the cake. He would do anything you asked of him. He's such a nice kid, he's so well mannered, he's been raised very well, and like I said, he's the first guy I wanted to get here.
"I knew that, being my first year as a head coach, and knowing that I'm not that much older than these guys -- four or five years -- I wanted kids who would respect the fact that I'm trying to do what's best for them."
And Gonzalez certainly respects what Jones is doing on the field, just as much as he respects baseball itself.
"I think he did a great job of getting people that he thinks will match each other [and whose] personalities get along pretty well," Gonzalez said. "He did a great job recruiting for this team.
"Our team chemistry, from day one, it looked awesome. It's one of the best teams I've played on."
For Jones, who has managed the Rebels to a division-leading 18-15 record thus far, Gonzalez is the heart and soul of that chemistry. Gonzalez brings his youthful enthusiasm -- the same enthusiasm he had when he sprinted around the bases following his walk-off homer, and the same enthusiasm that filled his eyes when he scribbled his name on children's baseballs at the Colt World Series -- and he lodges that enthusiasm in the hearts of the rest of the Rebels.
Nevermind that Gonzalez' .342 batting average ranks in the top 10 in the Valley Baseball League, or that he gets on base after nearly half of his at-bats. Those statistics secured a him spot on the Valley League All-Star team, sure, but those stats don't guarantee a late season run to the playoffs.
Jones said that, if the Rebels are indeed to make a push down the stretch, it will be because of Gonzalez, that little whisper from Puerto Rico that so epitomizes a child's love for baseball.
"His love for the game has really rubbed off on the other guys, the people that he lives with, the people that he hangs out with," Jones said. "His personality has really affected a lot of the other guys, and I think you'll see down the stretch."
Then Jones thought back to those three Puerto Rican players, including Gonzalez, who attended the Puerto Rico Baseball Academy before he helped coach them to a conference title at VCU.
"Sometimes we might get into a situation where we might play the game for the wrong reason, or for the money, or for this or that, or for stardom," Jones said. "But they just play it because they really do enjoy it."
Reproduced with permission of the copyright owner. Further reproduction or distribution is prohibited without permission.