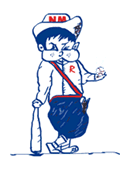 St. Louis Signs Tusculum's Brandon (Cotton) Dickson,
Records Win In Professional Debut With Johnson City
Friday, August 11, 2006
ST. LOUIS --- Tusculum College right-handed pitcher Brandon Dickson has signed a professional contract with the St. Louis Cardinals announced College officials. Dickson has been assigned to the Johnson City Cardinals, the Redbirds' Appalachian League affiliate.
He made his professional debut on Thursday and recorded a win in relief as the Cardinals defeated Pulaski 4-3 in 13 innings. Dickson tossed an inning as he surrendered a hit, an unearned run, walked two and struck out two.
Dickson is slated to return to the Tusculum campus next week, when the Greeneville Astros host Johnson City for a three-game series, beginning on Tuesday at Pioneer Park.
Following his junior campaign with the Pioneers this spring, Dickson excelled this summer in the wood-bat Valley Baseball League (VBL) for the New Market Rebels.
With the Rebels, the West Marbury, Ala. native registered one of the most dominant performances in team history. Dickson set a new franchise record with 13 saves, which also led the VBL. He also topped the Valley Baseball League in victories, going 5-0 in his 26 relief appearances, which were also most in the VBL.
The 6-5, 190 pound hurler pitched 29.2 innings this summer and posted a 1.21 earned run average while limiting the opposition to a .167 batting average. Dickson allowed just five walks while striking out 33. His Rebels squad posted a league-best 34-13 record and advanced to the VBL semifinals.
Dickson was twice named VBL Northern Division Pitcher of the Week and tossed a shutout inning in the League All-Star Game. On Tuesday, Dickson was named to the Northern Virginia Daily All-Valley League Team.
As a junior this spring, Dickson went 5-2 with a 3.39 earned run average in his first and only campaign with the Pioneers. Dickson tied the Greeneville, Tennessee school's single-season record with his 24 mound appearances, all in relief. He tallied four saves in his 58.1 innings of work, as he allowed 59 hits while walking a dozen and striking out 37.
The right-hander garnered South Atlantic Conference Pitcher of the Week honors once. Tusculum posted a 40-14-1 record in 2006, while capturing the program's second straight South Atlantic Conference Championship.
Dickson attended Central Alabama Community College in Marbury prior to Tusculum. In his two seasons at the Alexander City, Ala. School, Dickson went 11-7. In 2004, he posted a 7-3 record with a 3.31 ERA, hit .292 and was named the team's Defensive Player of the Year.
Tusculum College, located in Greeneville, Tenn., is affiliated with the Presbyterian Church, USA and is a NCAA Division II member of the South Atlantic Conference which is comprised of nine colleges and universities in Tennessee, North Carolina and South Carolina.