The Free Press (Edinburg, VA)
Rebels, Bandits even series
New Market wins latest round with county rival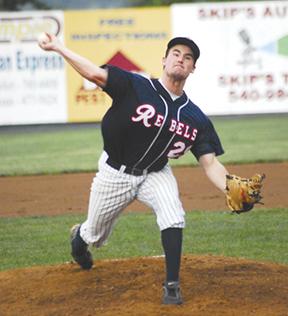 Winning pitcher Steven Thiele
Photo by Fonja Graham - The Free Press
By Jerry Carter - July 17, 2009
Round six of the family feud known as Woodstock versus New Market in Valley League Baseball looked a lot like the first five rounds Saturday night at Rebel Park.

New Market defeated Coach Donn Foltz and the River Bandits, 8-4 to tie the series at 3-3. The home team has emerged the winner in all six contests between the Shenandoah County rivals.

New Market broke open a pitchers' duel late in the contest by scoring five runs in the seventh inning, but the most telling number in the box score might have been the attendance figure. The crowd at Rebel Park was announced at 811, giving the two team's one of the largest crowds of the season in a game played outside of Staunton.

Two more games remain in the season series between the River Bandits and the Rebels. Woodstock will look to hold serve when the teams get together next at Central High School on July 27. New Market will look to do the same on the final day of the regular season July 30.