Cooper Drafted by Eagles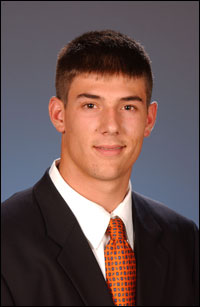 April 26, 2010 - John Leonard
Well, what a pleasant surprise!
Riley Cooper (New Market 08, Haymarket 09), already a baseball draftee by the Texas Rangers in the 25th round of the 2009 draft, can now count himself as an NFL draftee as well. And by the Eagles, too! (Ok, that's exciting for me, maybe- not for all of my readers...) As brilliant reader Eliot pointed out, it seems Riley was destined to end up in Philly, since he was a Phillies draft pick back in 2006. The Eagles took him in the 5th round, by the way.
Now, I suppose Riley could play both sports, or pick one to focus on. ATVL will be following along no matter what happens!
This is Riley's page in the Eagles' media guide, and this is his July 16, 2008 interview with ATVL.